Special Events
---
Long Night of the Lunar Eclipse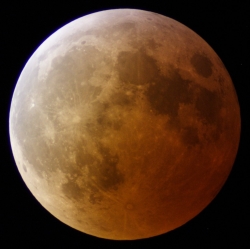 At Friday, 27th July 2018 a wonderful spectacle is to be seen over Munich: a total lunar eclipse!

We start our programme at 7:00 p.m. - rain or shine (admission from 6:45 on). In short lectures we explain this celestial shadowplay. In case of clear sky, we open our roof terrace around 8.30 p.m. where you can observe the moon through our big telescopes. If clouds cover the sky, we also try to show the eclipse by pictures and video streams over the internet as well as a simulation in our planetarium. There, we also offer shows repeatedly all over the evening.
Times of the eclipse:
Already while the moon rises at ca. 8.50 p.m. it is darkenned in earth's umbra shadow. Between 9.30 and 11.14 p.m., it is completely eclipsed and glows in dark red. At 12.19 a.m. the moon has left earth's umbra shadow again, at 1.30 a.m. the full moon is shining again normally.
Admission
For this event, admission is:

| | |
| --- | --- |
| | 6,- Euro normal price per person |
| | 4,- Euro reduced price per person, children under 4 years are admitted free |
Reservations are neither necessary nor possible.
The adult education center (Bildungszentrum Einstein 28), the Deutsches Museum and there also the Beobachtergruppe (observers group) as well as the ESO Supernova offer complementary events at their respective locations.
↑ back to top
---
Long Night of Munich's Museums
This event will take place on Saturday, October 20th, 2018. We are open from 19:00 h to 2:00 h.
Schedule
Tour of the observatory
Lecture in our exhibition hall with detailed explanations (in English on demand)
Planetarium show: Artificial night sky in a 4.5 m sky dome (only in German)
Observing celestial objects through our telescopes (requires clear skies)
Bazar with books, postcards, meteorites and more
Admission
To take part in the Long Night of Munich's Museums you need special tickets. These will be available from middle of September on in the observatory and will give you access to all museums, including the shuttle buses.
Price per ticket is 15 Euro.

↑ back to top
---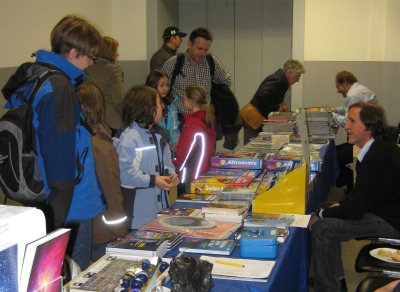 Open House 2019
Our next open house will be held on 30 March 2019, from 2 p.m. until midnight. An exact schedule is not fixed yet.
On this day we will introduce you to the club and its activities. Depending on the weather conditions you can enjoy the view from our observation platform and also participate in various astronomical observations.
Entrance free!
↑ back to top
---
Your Private Special Event
In addition to our regular program the Public Observatory can also be a very special event location for you.
Our cosmic ambience among the rooftops of munich will ensure a permanent impression for your childrens birthday party, anniversary, corporate event or other celebration! The astronomical component and special setting in our premises will enrich your event with celestial flair.
Contact us, if you plan to rent some of our premises, where you would be able to welcome up to 50 guests.
↑ back to top