Directions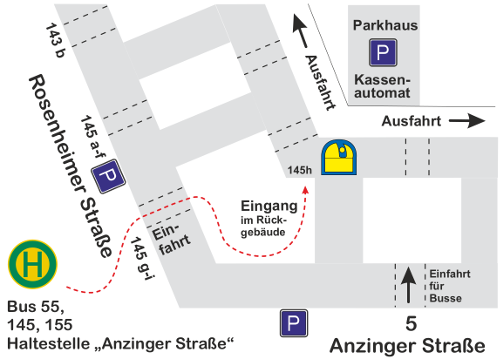 The Bavarian Public Observatory Munich is located in the eastern half of munich, somewhat south of the "Ostbahnhof".
Please note: We are NOT co-located with the "Deutsches Museum".
Our address:
Bayerische Volkssternwarte München
(Bavarian Public Observatory Munich)
Rosenheimer Str. 145h
D-81671 München (Munich)
Arrival by car or bicycle
Approaching from the city center, you would drive along Rosenheimer Straße, till you reach the intersection Anzinger Straße / St.-Martin-Straße.
Parking is possible in the vicinity or (for a fee) in the multi-story car park of the complex of buildings, where the public observatory is located.
Busses can stop in a separate courtyard, which is accessible from Anzinger Straße.
Arrival by public transport
Take any S-Bahn line or the U-Bahn line U5 to Ostbahnhof, from there a bus of the lines 155, 55 or 145, riding three stations to the stop Anzinger Straße.
Optionally you could also take the U-Bahn line U2 to Karl-Preis-Platz and use a bus of the lines 155, 55 or 145 in the direction of Ostbahnhof for one stop till the stop Anzinger Straße.
Map of area surrounding subway station Karl-Preis-Platz (pdf, 0,9 MB)

Entry
The entrance to the public observatory can be reached through the gate at "Rosenheimer Straße 145h." The actual entrance is in the rear building. There is also the "Stefan Sport Center" located. Two separate elevators take you to our premises on the 4th floor.