Guided Tours for Kindergarten and School Classes in English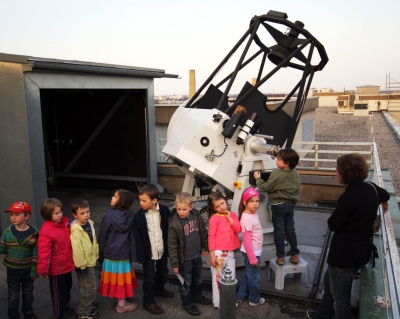 These programs take place during the day or in the evening.
The content is specially designed for the age of the children in your group. We can also cover special astronomical topics of your choice. These events take about 1½ hours.
Please contact us to arrange a special tour for your group.
Schedule
Our program has the following steps (with the focus depending on the weather conditions):
Tour of the observatory
Show in our exhibition hall with detailed explanations
Planetarium show: Artificial night sky in a 4.5 m sky dome
Observing celestial objects through our telescopes (using a surprisingly realistic simulation if the weather is unfavorable).
Admission
The admission fee for this tour is:

For guided tours in daytime: 3 Euro as admission per person*. Please note that the total fee is at least 45 Euro even if there are less than 15 children.
For evening tours: 4 Euro as reduced admission per child, otherwise 6 Euro*.
* Attendants: 2 attendants are admitted free, additional attendants pay the normal admission fees.

Further Information and Appointments
For further information and appointments please contact us by telephone or by email. Please remember to give a telephone number for call-backs when sending us an email request.
↑ back to top