About Us - Portrait of the Observatory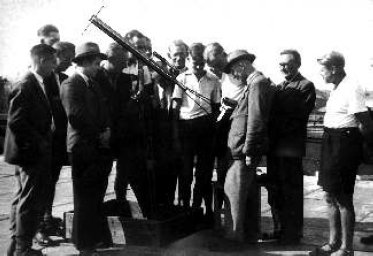 There has been a public observatory in Munich for more than 60 years now, which has grown from small beginnings to one of the biggest und best known public observatories in germany.
The cornerstone of the Public Observatory Munich was laid in the year 1946, when amateur astronomers where sought for regularly meetings by a small newspaper ad. One year later the small group of amateur astronomers could place their observation tools on the platform of a former air raid shelter in the east of Munich, 35 meters above street level. A small room measuring only six square meters was rent in the attic of the building as club room. On 31 May 1947 the first public guided tour was arranged, using a telescope with a lens diameter of only 50 mm as main instrument.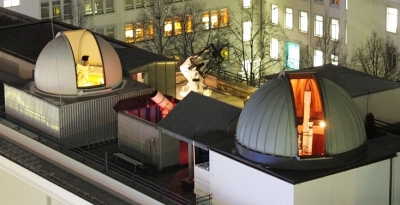 Much has changed since then. More and more rooms were acquired in later years and the number of instruments increased steadily. Today the Public Observatory Munich is equipped with several large telescopes, a planetarium, a lecture room, an exhibition hall, a substantial library, laboratories and its own machine shop.
Only the continuous support and an annual grant by the city of Munich, the honorary work of the members of the club and the support by many sponsors made this development possible, which served the spread of astronomical knowledge as primary public task of the club.
Today, the club has some 600 members and about 25,000 people visit the more than 500 public shows per year, so that up to now more than half a million visitors could experience some of the wonders of the universe in our premises. Director of the Observatory is Dr. Benjamin Mirwald.
---
Observation Platform
The 300 square meters sized observation platform is located at an altitude of 35 meters above street level and provides a splendid view over the city of munich and the Alps. Two telescope domes und two smaller huts, housing the large telescopes are located here. In addition to these the visitors can use a series of smaller, portable telescopes.
| | |
| --- | --- |
| | Observation platform and daytime guests |
| | Staircase to the platform |
| | View of the Alps, as seen from the observation platform |
---
Telescopes
The Public Observatory operates four main telescopes: Two reflecting telescopes and two refracting telescopes with optics up to 80 cm in diameter are available to observe the celestial objects with our visitors. A historical 10 cm Merz refractor, some smaller portable telescopes with an aperture of 10 - 20 cm and a large binocular 25x100 are also available.
Our instruments give impressive views of the craters and mountains on the Moon. On nearby planets such as Mars, Jupiter and Saturn many fascinating structures of the planetary surface, distant moons and ring systems can be seen. During spells of fine weather distant nebula, star clusters and galaxies become visible in the telescopes and offer an good insight into the amazing variety of space to the observer.
| | |
| --- | --- |
| | Our 80 cm Cassegrain reflecting telescope with 8 m focal length, equipped with an altitude - azimuth computer controlled mount and located in a 3x3 m wheeled hut. This large telescope was inaugurated on 13 January 2005. It is one of the largest telescopes accessible by the public in central europe. Its enormous light gathering power gives impressive views of distant celestial objects like nebula, star clusters und galaxies. The generous donations of our many godfathers of dedications of stars allowed us to construct this instrument. |
| | Our 25 cm Schaer-Refractor with a focal length of 4 m, equipped with a apochromatic, 3-lens objective, mounted on an equatorial mount "MAM-150" and located in a GFK dome with a diameter of 3.5 m. The optic of this telescope was donated to us by Prof. Waltherspiel. The restored optic was compbined with the mechanics of the telescope, which were fully manufactured in our own machine shops. The telescope is at our visitors' disposal since 1996 and is used as an universal tool for all kinds of observations of celestial objects, due to its outstanding image quality. |
| | Our 40 cm Schmidt-Cassegrain reflecting telescope with a focal length of 4 m is equipped with a sturdy equatorial mount and located in a 3.5x3.5 m wheeled roof hut. This instrument was purchased in 1990, financed through the generous donations of many godfathers of dedications of stars. Due to its large light gathering power it is well suited for observing distant and faint objects such as nebula or galaxies. This instrument is used by many members of the club for their own observations. |
| | Our 18 cm refractor with a focal length of 3 m, equipped with an achromatic objective ("Fraunhofer" lens), mounted on a equatorial mount in a wooden dome with a diameter of 3.5 m. This telescope was constructed in 1971 and was the most powerful telescope of the observatory for a long time. Due to its long focal length and intrinsic sharpness it is well suited for observations of the moon and planets. A telescope with 10 cm diameter with a Coronado solar prominence filter is installed for solar observations, which allows a fascinating glance at the bubbling surface of the Sun. |
---
Planetarium
In our planetarium with 32 seats a Zeiss projector creates an impressive view of the night sky, independent of the weather or time of day, which in nature could only be seen under the best weather conditions. The constellations and the movement of the sun, moon and planets can be clearly demonstrated and these important aspects of the science of astronomy can be easily explained.
| | |
| --- | --- |
| | |
| Visitors in our planetarium show | Zeiss ZKP-1 projector of the planetarium |
---
Dedication of Stars
Our fund-raising campaign "Dedication of Stars" enables us to fund the purchase of new instruments and to carry out necessary renovation work, such as the installation of our powerful planetarium projector (Zeiss ZKP 1) and the huge 80 cm telescope.
---
Presentation Rooms
| | |
| --- | --- |
| | Our lecture room has 64 seats and a wide range of equipment for presentations: Slide-, video-, LCD- and overhead-projectors and a large screen with the dimension of 3 x 2.5 m. Lectures can be transmitted to our conference room. |
| | There is a scaled model of the solar system in the 40 square meters sized exhibition hall. A mini-planetarium demonstrates the orbits of Earth and Moon. With our spatial model the positions of the stars in the universe can be easily understood. Astronomical information is shown on large boards. |
| | Our 50 square meters sized conference room is equipped for multi-purpose use with a variable number of seats and a bar. We use it for seminars and as a lounge for our club members. You can rent it for private special shows, presentations and other festivities. (Without decoration. Please provide this as well as all food and drink yourself.) |
---
Membership in the Bavarian Public Observatory Munich
Are you interested to become a member of the Bavarian Public Observatory Munich? Learn more about it here.