Special Events
---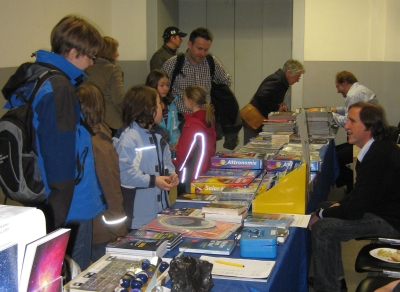 Open House POSTPONED to 24 October 2020
On 24 October 2020, from 7 p.m. until 1 a.m., we will introduce you to the club and its activities. Depending on the weather conditions you can enjoy the view from our observation platform and also participate in various astronomical observations.
For tickets, see the German page
Our Open House Day is on the same day as the Germany-wide Astronomy Day. Our program contains, for example:
Planetarium shows (only in German)
Explanatios of astronomical software and apps
Depending on clear skies: Observations through our telescopes.
Demonstrations of telescope manufacturing in our workshops
A bar with soft drinks
A corner for handicraft and colouring pictures
Bazaar with astronomical literature, meteorites, postcards etc.
We are open from 17:00 to 1:00 h on that day and night. For tickets, see the German page
↑ back to top
---
Your Private Special Event
In addition to our regular program the Public Observatory can also be a very special event location for you.
Our cosmic ambience among the rooftops of munich will ensure a permanent impression for your childrens birthday party, anniversary, corporate event or other celebration! The astronomical component and special setting in our premises will enrich your event with celestial flair.
Contact us, if you plan to rent some of our premises, where you would be able to welcome up to 50 guests.
↑ back to top